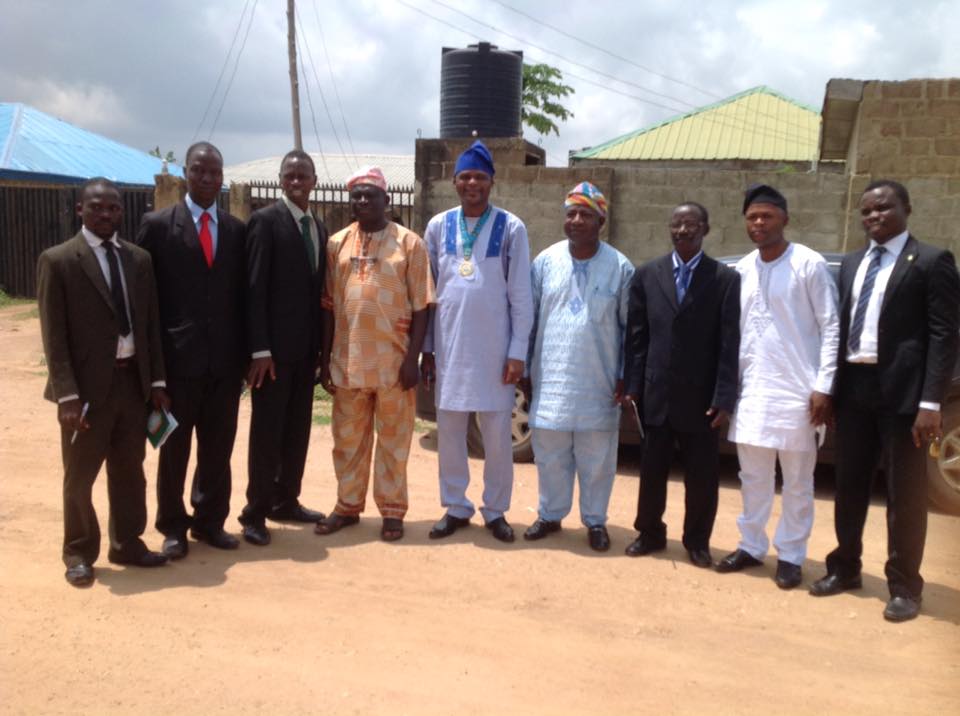 The Official Inauguration of the Nigerian Institution of Agricultural
Engineers (NIAE), Osogbo Chapter and the Investiture of the Pioneer
Executive Members took place at the premises of the NSE Osogbo Branch
Secretariat yesterday, Saturday 9th July, 2016.
The National Chairman of the Institution (NIAE), Engr Prof Babatunde
Adewumi FNSE, FNIAE who was ably represented by the National General of
NIAE, Engr. Dr.  J. O. Olaoye MNSE, FNIAE, MASABE, MISTRO, MSESN performed
the official Inauguration in the presence of the Southwest Chairman of the
Institution, Engr A.L. Ijasan FNSE, FNIAE.
The Coordinator of the Osun Rural Access Mobility Project (a World Bank
Assisted Program), Engr A.A. Oriolowo FNSE, MNIAE was the Special Guest of
Honour while the Chairman of NSE Osogbo Branch, Engr A.F. Ibitoye
Kilomodemo FNSE, FNIMechE was the Chairman of the Ocassion. The Guest
Lecturer, Engr A.A. Taiwo FNSE, MNIAE is an Associate Professor of Agric
Engineering Dept, LAUTECH, Ogbomosho.
In attendance was the former Vice Chancellor of the Obafemi Awolowo
University, Ile Ife and the Secretary-General of the Committee of the
Nigerian Universities/Committee of Vice Chancellors (AVCNU/CVC), Engr
Michael O. Faborode FNSE, FNIAE. He is also the serving President of the
West African Society for the Agricultural Engineers (WASAE). Others were
Engr Dr Famurewa MNSE, MNIAE (FUTA, AKURE), two Past Chairmen of NSE Osogbo
Branch, Engr A.A. Adebayo FNSE & Engr S.A. Ademola MNSE, NIEEE Chairman,
Osun Chapter, Engr Ishola Biliaminu Adegboye MNSE, MNIEEE, Engr M.A Oladapo
MNSE, MNIAE, Ilesha APWEN Chairman, Representatives of Chairmen of NICE,
among others.
The foundation Executive members of Osogbo Chapter of NIAE are:
Engr. F. O. Daramola MNSE, MNIAE, MTRCN                Chairman
Engr. Dr. W. A. Lamidi MNSE, MNIAE                              Vice
Chairman
Adesigbin Adebayo J. MNSE, MNIAE                                General
Secretary
Engr. S. A. Olusola MNSE
Treasurer
Ibiyemi Oluwaseun MNSE, MNIAE                                    Technical
Secretary
Engr. A. S. Olutayo MNSE, MNIAE                                    PRO
Congratulations to the Pioneer Chairman of NIAE Osogbo Chapter, Engr F.O.
Daramola MNSE, MNIAE, his Exco Members and all Agric Engineers in the State
of Osun.