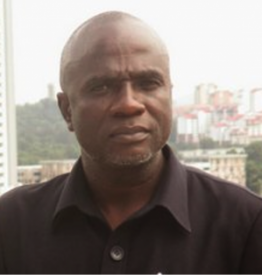 Financial Secretary
E-mail:
Bala Gambo Jahun was born in Bauchi, Bauchi State Nigeria on 15th January 1966. He attended Qur'anic studies before enrolling into Jahun Primary School, Bauchi from 1974- 1980. He went to Government Science Secondary School Billiri in former Bauchi State, 1980-1985. Immediately, he proceeded to Federal Polytechnic, Bauchi for National Diploma (ND) in Agricultural Engineering in 1985-1988. He started his working career with the Bauchi State Ministry of Agriculture Tractor Hiring Unit posted to Azare in Bauchi State in 1988 as Assistant Agricultural Superintendent. After serving for three years he went back for his Higher National Diploma (HND) in Agricultural Engineering at Federal Polytechnic, Bauchi from 1991- 1993. Thereafter, he served his mandatory one-year National Youth Service Corps (NYSC) from 1994-1995 at Ovia North-east Edo State. He was seconded to Bauchi State Agricultural Development Programme under Unified Extension Programme from 1997- 2010 as Village Extension Agent. He rose to the rank of Assistant Director Engineering Service at the Bauchi State Agricultural Development, Bauchi State Nigeria. While at the BSADP he found his work challenging and decided to go back to Abubakar Tafawa Balewa University, Bauchi State for a degree programme in Agricultural Engineering from 2000- 2004. He went for his Master's degree in Agricultural Engineering (Farm Power and Machinery) in Modibbo Adama University of Technology, Yola Nigeria from 2008- 2011. He transfers his service to Abubakar Tafawa Balewa University, Bauchi from 2010- date. He crowns his academic pursuit by obtaining a Doctor of Philosophy (PhD) in Agricultural Mechanization and Automation at the prestigious Universiti Putra Malaysia, Serdang Selangor Malaysia from 2013-2017.
He held several positions within and outside the University which includes: Departmental Examination Officer, Departmental Postgraduate Coordinator, Departmental Seminar Postgraduate Coordinator, Chairman, Departmental Committee on Tractor Hiring Services, Reviewer with Canadian Centre of Science and Education Journal of Agricultural Science, Reviewer with Current Journal of Applied Science and Technology, Reviewer with Asian Journal of Advanced Research and Reports, Assistant Secretary Jahun Development Association (JDA), Chairman, Leadership Training Committee, Deputy Chairman Duguri Old Student Association (DOSA), Treasurer, Tattabara Animal Traction Association, Bauchi, National Financial Secretary Nigerian Institution of Agricultural Engineers (NIAE), General Secretary, Northeast Region, Nigerian Institution of Agricultural Engineers, Assistant Secretary General, Nigerian Society of Engineers Bauchi State Branch, General Secretary, Nigerian Institution of Agricultural Engineers, Bauchi Chapter, Consultant, Gender mainstreaming survey into Community Based Agricultural and Rural Development Project an African Development Bank Project in 9 Local Government Areas of Kwara State, Resource Person, Accreditation of National Diploma / Higher National Diploma (ND/HND) Agricultural Engineering Programme of Kwara State Polytechnic, Ilorin organized by NBTE, Abuja, Poll Collation Officer for 2012 Gubernatorial Elect. Adamawa State 4th February 2012, Guest Speaker for Muhammed Abdullahi Abubakar Scholarship Foundation presented to 21 Students indigene of Jahun Community Chaired by Imam Ibrahim Idris the Chief Imam of Gwallaga Mosque.
He is a Member, Faculty of Engineering Theses Filter Committee, Member Faculty of Engineering and Engineering Technology Staff Welfare Committee, Fact-Finding Committee member set up by the Vice-Chancellor to investigate query letter given to a Staff of Architectural Department, Editorial Board Member Canadian Centre of Science and Education Journal of Agricultural Science 2020-2025, Reg. Member COREN, Reg. Member Nigerian Society of Engineers, Reg. Member Nigerian Institution of Agricultural Engineers, Reg. Member ASABE, Member ASUU-ATBU, Bauchi, Chairman Alhaji Daguma Mosque, Bauchi, Member FAMAN, Member, Jahun Development Association Bauchi, Member/Deputy Imam's Muslim Student Society Federal Polytechnic, Bauchi Chapter, Member MSSN Abubakar Tafawa Balewa University Chapter, Bauchi, Member Agricultural Engineering Student Association (AGRESA) Abubakar Tafawa Balewa University, Bauchi Chapter, Member Nigerian Universities Engineering Students Association (NUESA) Abubakar Tafawa Balewa University, Bauchi Chapter.
He has forty-four number of scholarly academic's publications to his credit for journals and conferences. He has been to several countries in the course of his studies namely, Ethiopia, Egypt, Thailand, Singapore and Malaysia. He is happily married to Aishatu and Fatima. The marriage is blessed with seventeen children and three grandchildren. He is a lover of football, volleyball and Table Tennis. He is a seasonal farmer and harder.