Biannual Professional Conference

The society host a biannual conference, in which the hosting right is usually rotated across the country, this event allows for professional members to share experience, network, improve research from feedback, tackle burning issues in the profession. The theme of each conference is usually developed to cover the prevailing challenges of the profession in the country so as to proffer several solution from which a sustainable idea can be harnessed from.
There are normally a variety of session formats to select from including pre-conference workshops, panel discussions, team delivered presentations and of course single presenter presentations. Each offers a special experience and learning opportunity. Branch out a bit and see if you can sample a range of presentation approaches and styles.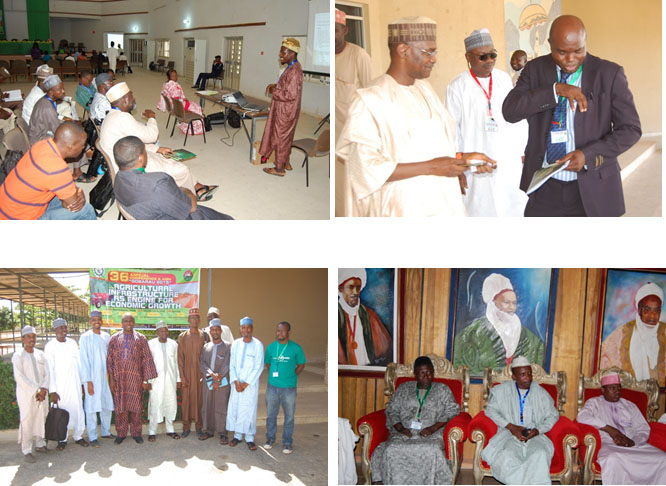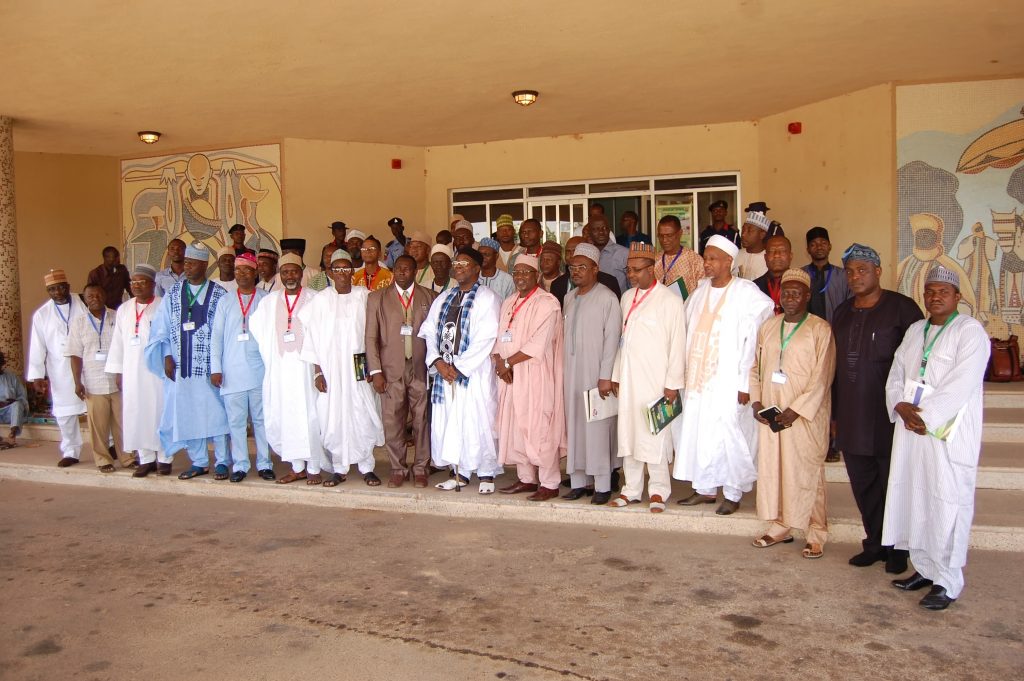 Our conference is a meeting of Agricultural and Bioresources Engineering professionals where we discuss subject or professional issues, deal with organizational matters, matters concerning the status of the profession, and scientific or technical developments.
Nigerian Institution of Agricultural Engineers (NIAE) 2022 International Conference. The conference is scheduled to hold from 20-24th September 2022 at Hotel Benizia Limited, Asaba, Delta State, Nigeria.
·       Opening Ceremony on Wednesday, 21st September 2022.
·       Chief Host – His Excellency, the Governor of Delta State, Mr Okowa
·       Chairman of the Session – Engr Tasiu Gidari-Wudil, President, Nigerian Society of Engineers (NSE)
·       Keynote Speaker – His Excellency, the Governor of Borno State, Engr Prof. Babagana Zulum, FNSE, FNIAE, mni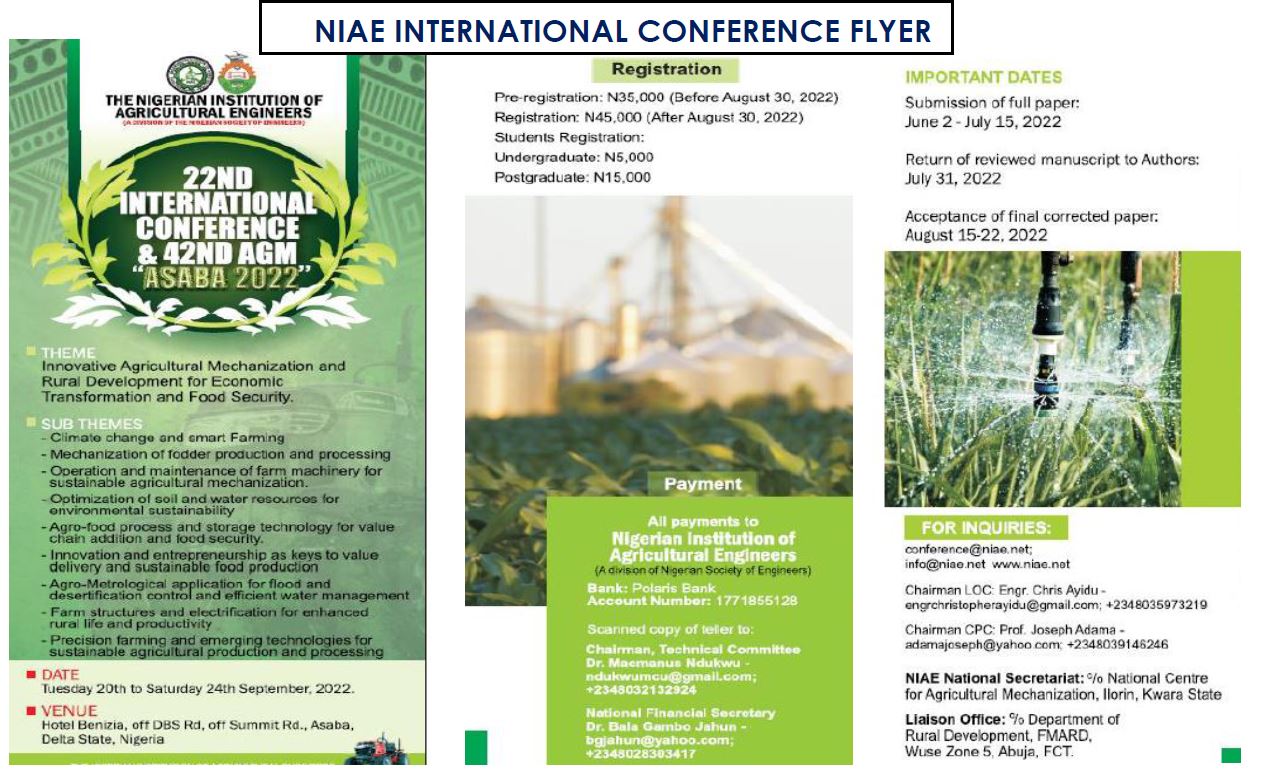 ·       Lead Paper Presenters are
·       Prof Klein Ileleji – Purdue University , West Lafayette, Indiana, USA
·       Prof Michael Ngadi – McGill University, Montreal, Canada
·       Engr Mrs Idiat Amusu – Chair, WABEN, NIAE, Lagos
·       Dr Marcus Ogunbiyi – Perm Sec, Head of Service, Abuja, Nigeria
·       Prof Shuiab Musa – IPC, NIAE, ATBU, Bauchi, Nigeria
·       Prof Sabs Asoegwu – FUT, Owerri, Nigeria
·       Panel Discussants
·       Prof Michae Faborode – Former VC, OAU
·       Prof Linus Opara – Stellenbosch University, South Africa
·       President, Federation of Agricultural Commodity Association of Nigeria (FACAN) -Abuja
·       Dr M. Y Kasali – Executive Director of NCAM, Ilorin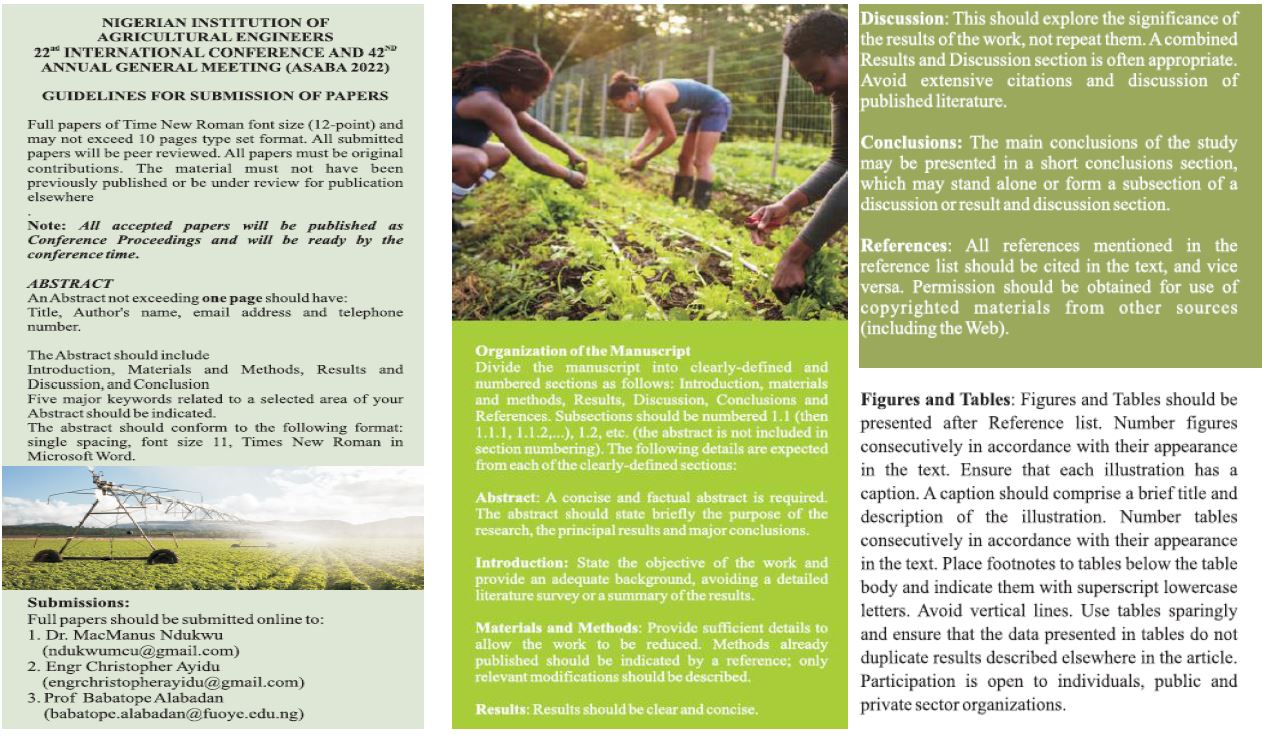 ·       Students Session – Entrepreneurship and Skill acquistion
·       Dr Mohammed L. Attanda – Executive Director, NIHORT, Ibadan, Nigeria
·       The discussion session will take place after the lead papers must have presented their papers. The main theme of the conference is "Innovative Agricultural Mechanization and Rural Development for Economic Transformation and National Food Security".