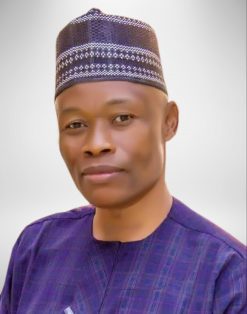 National Secretary
E-mail: j@gmail.com
Engr. Godwin Anthony Adoga holds a bachelor's degree in Agricultural Engineering (Farm Power and Machinery option) obtained from the University of Agriculture, Makurdi in 2000; a PGD in Journalism from the International Institute of Journalism, Abuja; and a Diploma in Innovation and Entrepreneurial Financing from the Kaduna Business School, Kaduna, 2016.
His outstanding performance as a youth corps member in Kaduna State earned him a State Honours Award and an automatic employment into the Kaduna State Civil Service as an Agric Engineer I from where he rose to the rank of Deputy Director, Agric Engineering in 2000.
Aside from his academic qualifications Engr. Adoga has attended several workshops and seminars for capacity building. Some of which are:
Workshop on photovoltaic Design, Energy Audit, Installation and Maintenance of Solar Power Supply Systems
Leadership
AutoCAD 2D and 3D
Agric – Contracting Services
Entrepreneurship
Fish farming
ICT and Computer Repairs and Maintenance
Graphic
He has also participated in many conferences and presented papers.
Honours received:
2002 NYSC State Honours Award for outstanding contributions in Individual Community Development Project (ICDP).
Top contributor in the "My Great Kaduna Competition", a competition organized by the Kaduna State Government in 2015 to crowdsource opinions/Ideas/Innovation on how to make Kaduna Great again. (My presentation was titled: Modernization of the Agricultural Sector by Employing Tractor and Machinery Hire Services)
Top Graduating Student, Kaduna Business School, 2016.
AutoEI – Merit Award for Exemplary Commitment to the Engineering Profession and Support to the Ideals of Automotive and Locomotive Engineers Institute AutoEI (2016).
Certificate of Merit from the Nigerian Institution of Agricultural Engineers, Kaduna Polytechnic Student Chapter 2018
Award of Excellence from the Nigerian Institution of Agricultural Engineers, Federal College of Forestry Mechanization Student Chapter 2019
Award of Excellence from the Nigerian Society of Engineers, Kaduna Branch, 2019
Professional Memberships
Engr. Adoga is a Corporate Member of:
Nigerian Institution of Agricultural Engineers, (NIAE);
Nigerian Society of Engineers (NSE);
Automotive and Locomotive Engineers' Institute (AutoEI);
Registered with Council for the Regulation of Engineers in Nigerian (COREN).
Service to Professional Bodies
Nigerian Institution of Agricultural Engineers (NIAE)
He served NIAE Kaduna Chapter as
Member of the Branch Information and Publication Committee, where he acted as the editor in chief of its Newsletter, "The Kada Agricultural Engineer" (2007 – 2009).
PRO,
Financial Secretary
Branch Chairman (2018 – date).
The Nigerian Institution of Agricultural Engineers (National) – National Secretary (May 2021 to date)
Nigeria Society of Engineers, NSE Kaduna Branch
Served variously as EXCO Member, Assistant Technical Secretary, Technical Secretary and Assistance General Secretary between 2006 and 2016
General Secretary (2010 – 2011)
Served in many committees, sometimes as chairman, including information and Publication committee where he still serving as Chairman and Editor in chief of the Branch Newsletter, "The Kaduna Engineer" (2009 – 2015).
AutoEI
National Secretary (2010 – 2016)
LOC member/Secretary during its 2011 – 2018 Conferences and AGMs.
Engr. Godwin Adoga is proficient in MS Word, MS Excel, graphics etc.
He is married with children.
Contact Us